Monday, March 31, 2008♥
6:35 PM
Yay!! My aunt bought me a long  grey hoodie top, short sleeved.
and a black and white top, quite long same as hoodie xD
love it alot :P.
and also a little brown furry pouch with a kawaii monkey imprinted on it
bought some other goodies too.
oh and she bought my brother a shorts which looks like boxers Lol.

Ok, school, Lin was absent today but she came during sup.
and I seriously dont knw why.
WHY DOES ANDRE AND RYAN LOVE THE SUAN MEI ( or whatever you call it, dont really think its suan mei but its nice)
SO DESPERATELY, ADRE HAD TO RESORT TO TAKING MY STUFF ==

No worries anyway, got my pencil case back. Just a whole bottle reduced to a little bit at the end of the day.

Sunday, March 30, 2008♥
3:35 PM
Made 2 new skins today and yesterday :D
Glad I can do skinning already.
was fretting 2 years ago.. didn't know anything about html or use photoshop or dreamweaver
well I currently still dont quite understand dreamweaver Lol

well, should have gone for QingMing.
friends not online, grandma nagged about table manners ( before eat must call ah ma.. and bla)
stoned and eating pathetic baked corn snacks, on the front cover, the picture seriously looks like real nuggets. But sadly, no.

Oh yah, reminding me of my grandma, yesterday when we went to dine out,
we had to climb up this mini stairs, and on one of it got 1 big hole(to put plants ?)
I saw it so I stepped on the side of the hole, never fall and just walked up.
After seeing me walk up, my grandma, thinking there was no hole and it was solid,
put her leg INTO the hole.
I was listening to my songs.. never noticed until I heard my mum laughing..
turned back, saw only half of my grandma Lol.
and she blamed me for walking up like there was no hole.

Orals are next next week. I think. or next next next week.

I hate orals.



Saturday, March 29, 2008♥
10:58 AM
Finally able to stop myself from downloading any more PS brushes.
I think I downloaded more than 20 alrdy. =.="

Friday, March 28, 2008♥
7:40 PM
What the hell?!



Weifen sent me this chainmail..
and it said something like this
"MOTHER AND DAUGHTER BANNED FROM DISNEYLAND FOR LIFE"


♥
3:45 PM
Omg. Ryan is damn disgusting.
He dug his nose.
and scared everybody with his Pi Sai.

All our teachers kindly gave little homework..
well, little for me because I finished my xi zi in class and some other stuff.
Lavender is going to Malaysia this weekend..

And kindly inform me if you have "Accidentally in love" score sheet, or a website that offers it FOC.

Thursday, March 27, 2008♥
8:50 PM
Bloody process skills. wasting my braincells over stupid questions which makes me so confused and in the end, my first working was correct ( to me ? )

Sunday, March 23, 2008♥
9:55 PM
Oh i made a blogskins account.
and made a skin..
my brother laugehd hysterically at the skin title
and he doesnt know the word hysterical existed

Saturday, March 22, 2008♥
6:58 PM
... I had to go home by bus.. when it was raining, heavily!
used my plastic A3 file to shelter myself, quite useless though, I still got wet.
was so freaking cold in the bus.
I saw this poster/sign on the bus with 2 "stop abuse" signs at the sides
it said " Bus Captains have every right to have a safe environment to work in"
Might not be very exact, but it's around there..
reminds me of the HCJC incident where a guy punched the bus driver because of his girlfriend's blabla..

♥
12:06 PM
Andre is as irritating in sms and msn.

♥
9:47 AM
sigh.. life is so boring..
well.. except that I'm watching some videos to kill time..
I haven't done my homework yet...
always thinking I had 1 week to do it .__.


Thursday, March 20, 2008♥
9:16 PM
Lol. Ren Jie, surprisingly, had scored 33/40 for his chinese compo.
and guess what?.. the best part was..
he broke up Ryan's chinese name "Jun Liang"
and made the two boys' name in the compo xiao jun and xiao liang. Lol.

Nothing really special also.
trying to cut down on my computer...


Sunday, March 16, 2008♥
11:44 AM
I don't want to go school.
Andre might kick me, and my blister would..
Eric might use the leg of the chair to .. my foot.. which hurt badly.. srsly.. and his weight.. =.=
*prays nobody hits my blister*
and I hope Lin doesn't step on my foot again..


♥
11:33 AM
I couldn't sms my aunt yesterday..
Never tried to sms anyone as well..
I asked my brother to help me solve it..
turns out..

The bloody prepaid card thing, is left only 75 cents.
75 cents still can sms what..
but Idk why starhub just refuses to let me send.

♥
11:28 AM
Yay!
My mum is back from HK
She bought me :
1 Jeans similar to my own..
Another medium sleeve white top
1 Yellow Top for home wear
Green tea chocolates and sweets and ... strawberriesssss.... x)
The last one was the most important one..
Because those are essential for one with a very sweet tooth.
Friday, March 14, 2008♥
11:38 PM
Luckily Lav told us there was lead.com to do..
6 assignments !?
better go do before I get a tongue lashing from Mrs Lee on Monday

♥
11:16 PM
ice skating was fun ! Although it simply involved a large piece of ice and your skates.
Lin said that she had finished her ballet exam at 4.10, 5 mins before I was supposed to leave home.
the night before she said latest was 4.45 -.-
Anyway I forgot to drink water and bought bubble tea at coronation.
Lin's mother went to shop at NTUC =.="
So we were 5 mins late..

When we reached, we waited for Lin to change out of her leotard she was wearing in her clothes.
Lav's mother wanted Lav to wear a grey glove with a little pink and white mouse there LOl.
Lav refused profusely Lol.

We left the house..
Chatted the way there.. It's so far lol..
When we reached we had to go through some troublesome procedures..
Then we started skating...
we went slow at first .. Then I got fast..
Lin was the ultimate "fall-down-er"
she fell down so many times in the beginning when me and Fern didn't fall
But I fell down quite alot of times later cause I went too fast and lost my balance when I went hold the rim.. stupid right.. hold rim still fall -.-
Then there was once me, Fern and Lin were holding hands..
Lin said " Wa.. 3 people damn squeezy la.. esp the person in the middle * referring to herself*"
Then Fern say " Ok lor.. I let go ahhh..!"
Lin loses her balance..
she used me as a support and caused me to land butt first =.="
Pain la ..
Lin I hate you !!

Lav's mum came back with Donuts!!!
I took the one coated with white chocolate and with lemon filling <3
Fern and Lin took the extremely chocolate one..
Lav took the flaky one.. don't really know whats that either.. guess its chocolate..

Then after that we just skate skate.. then suddenly.. one part of my foot which was pain
but I could still bear with before.. became VERY PAIN.
then I went back and fell twice because of the pain =.=
Turns out to be a retarded burst blister.

Then I tried to wear my skate again.. but too pain..
well, luckily only half n hour left.. so I just watched them play..
After that we went to have dinner!!
I wanted to buy Suan La Tang La Mian
But don't have .. so I settled with Tom Yam, same as Fern.
It was piping hot and spicy =.="
Very hard too eat .. too scalding ..
but I basically only ate the noodles instead of the Liao(4)

Lav requested her mother to buy Tao Kae Noi Seaweed.
Flavours : Tom Yam, Sea Food, Original and Tomato
But she could only get Tom Yam, Original and Hot and spicy which we had not requested but still okay with it.

After dinner, we went back.. Lav's mother didn't know how to go back ...
But luckily we turned the correct direction Lol.
We dropped Lin back at her condo before heading back to Lav's home
Fern's father was already there when we reached..
Now only to wait for my father to fetch...
Got back.. very tired..
The retarded blister was so pain when I was bathing..
It felt like it was tearing apart and it seems so fine when I looked at it =.=

When I went online..
Lavender told me she had a burst blister too..
and it also hurt when she was bathing xD
Bloody blister..
Now I can't even wear my slippers !!


♥
10:47 AM
Yey. going for ice-skating today with Lav, Fern and Lin
I'll either borrow a glove from Lin or buy one..


Thursday, March 13, 2008♥
5:25 PM
♀ κimвεяℓεy™ says:
number three : we r not retards to let you kill us
andre says:
u man ur arent?
♀ κimвεяℓεy™ says:
nvm.. We're r not.
andre says:
why not
♀ κimвεяℓεy™ says:
of course.. someone has to be higher than a retard to make andre feel pissed of
andre says:
...
♀ κimвεяℓεy™ says:
dont you agree?
♀ κimвεяℓεy™ says:
unless you're gonna degrade yourself till even a retard can piss you off
andre says:
....


Made andre pissed off . lOl.

♥
3:04 PM
Oh no!
The worse of the worst!
My chinese tuition teacher just called to say that my classes will be changed to Saturday!
Saturday!!
And I won't be having lessons with the other girl from NY(nanyang not new york) anymore, instead, I'll be having lessons with some person from Raffles !!
And she said it was better because the NY girl was slow *no offence, is the teacher say one
And she said our standard would be the same.

Well.. Byebye. 1/12 of my saturday.

Wednesday, March 12, 2008♥
6:16 PM
Drew my maple characters out of pure boredom.
Didn't draw my lv 73 Mage because the seraphis and the anakarune is .. ugly ==
♥
2:21 PM
Well. I gave up on my Chinese compo because I was too impatient to wait for the liquid paper to dry.

and for that spam, please ignore it.
Like I said..
Idc if any one who hates me spams (:

♥
12:55 PM
Can you believe it?!
I'm actually lifting up my pen and doing my Chinese compo!

♥
9:07 AM
Had a 2-hour chatting session with Lin last night.


Tuesday, March 11, 2008♥
6:02 PM
Random visit to my own blog and I realised the first 3 posts were talking about death, dying die.
Well it makes it 4 now.

FYI : I'm still rotting.

♥
3:04 PM
Whenever I tell myself to do my homework since I'm so free, I feel like dying.

♥
2:33 PM
My mum left for Hong Kong like about half and hour ago..
Byebye. T.T
Bon Voyage.
well.. sad thing is she's not gonna come to my blog .. in Hong Kong .. and never will..

I feel like dying because there's nothing to do .. after I spent 3 hours doing my new skin.


Monday, March 10, 2008♥
4:42 PM
And, its not a good thing because I'd probably die of boredom at home.

♥
4:40 PM
Wow!
Guess what?
My grandmother will be coming tonight.
My mother and my grandmother will be leaving for HK tomorrow for idk what reason.
My brother will be going for his camp tomorrow and coming back on Thursday.
My father will be going to work as usual.
which leaves me
home alone

Sunday, March 09, 2008♥
3:31 PM
Heh. today spent a few hours chionging priston tale with my brother.
I would not have came to blog if he hadn't begged be to go because he wanted to catch up with my lvl.

Saturday, March 08, 2008♥
6:47 PM
Well I seriously preferred that it was a school day.
At least more people get online ..
I am getting sick of holidays already..
especially when nobody's online!
Well.. I might change my mind if someone goes online..
And there's nothing to play ):

Recalling that I had set my clock to the precise time..
it is once again 15 minutes late..
Guess I need to change the clock again..
and please don't use this excuse to give me a clock on my birthday.
Rawr . I'll hate you forever .

And I'm gonna be broke on Hui Sze's birthday because we are going dutch ._.
Possibly have to pay for the movie ticket too..
now there goes my precious $20 which I could not bear to spend from my parent's ang pow

Friday, March 07, 2008♥
8:03 PM
so. the new modem came along with the new 8mb singtel!
well. but currently, it doesnt work -.-"
have to use this linksys internet to use the internet and its damn slow. =.=

♥
6:37 PM
Yay!*
Mind the exclamation mark.
Lavender complained that when I said Yay, I always ending with a fullstop.
So now, I shall do it with the "!"

March Holidays are here (:
Hui Sze has invited me to her birthday party on 10 March~

My Grandmother will be coming this Monday!
thankfully she and my mother are going to HK on Tues.
Less suffering.

And today in school.. we were supposed to do a compo.
but it ended up as our holiday homework!
well.. I can't recall much from school..
but weifen attempted to molest me and Jerene.
Jerene was covering it with her red file.
and she forgotten what was "boob"
I tried to stop weifen from telling her but..
she still told her in the end..!
Jerene's mind is once again polluted ):

And Mrs Lee told us to exchange papers to mark.
and since it was like exchanged totally randomly, My paper was like no where to be found =.=
lousy marking system. at least inform the person you have his/her paper right =.="



Thursday, March 06, 2008♥
2:10 PM
Today while I was gently using my book to hit Zhi xin repeatedly and murmuring "i hate you" repeatedly because she scored more marks then me and then, her shoe came out. mwahaaha.
my curse kinda works. and then she proceeded to hitting me because my curse was oh so accurate.
During Art, it was so fun. laughed and joked and like the usual people were crowding at back row.
Ren Jie tried to nipplelize luke and ballelize andre. =.="
well. i can't rmb what happened after that and i cant be bothered to think either. so..
I guess i won't continue
Wednesday, March 05, 2008♥
8:00 PM
Hah. guess what this is my 400th post.

Anyway had a bloody firedrill today.
I bet it's for Ma Selamat or how you even spell it.
in case he ever pours kerosene and lights up my school.
well I hope he does. and when that happen I'll seriously take my bag and pencil case.


Tuesday, March 04, 2008♥
9:52 PM
Today was a funfilled day.
except for the fact that Mrs Lee gave us 1 composition and 1 journal writing.
and.. I have only done the composition and I'm gonna sleep in 5 minutes.
When Mrs Lee read out Terence's composition.
we laughed at every sentence.
and I gotta admit his writing is not bad. his sense of humour is the best.
The victim was a bus driver named suzie of suzie primary school.
someone threw a stone through the window.
a piece of glass pierced through her leg.
paddling in a pool of her own blood
she fell down the window and in the deep dark 8m pond. her butt was covered with feathers from the duck I think. nevr hear properly.
and that's only the summary.
every sentence written with humour
*applause*
Practically spent 45 minutes joking arnd.
Ren Jie pulled Ryan's shirt and peeked in.
well. the back not the front.
Andre did that to Luke to. and we were discussing names for their future babies
Like is Lavender is with Kah Ween or how you spell his name
Lavender + Kah Ween = Kahwender
Lavender + Luke = Luender or Lukender
Weifen + Luke = Lu Fen or Fen Lu , or Lu Wei or Wei Lu (wei lu <-- weifen's sister's name!)
AND I SCREWED UP IN MUSIC TODAY.
so what.
Hmph.
♥
6:46 PM
♀ κimвεяlεy™ says:
eh whats the title of the compo?
__`` Lonely Gal ``__ It's always your turn to speak... when is mine? says:
The Great Sale
__`` Lonely Gal ``__ It's always your turn to speak... when is mine? says:
u started oready?
♀ κimвεяlεy™ says:
har meaning must copy?
__`` Lonely Gal ``__ It's always your turn to speak... when is mine? says:
which paragraph?
♀ κimвεяlεy™ says:
i only write name class date index number
__`` Lonely Gal ``__ It's always your turn to speak... when is mine? says:
==|||
Impossible-Quiz.com
Monday, March 03, 2008♥
5:54 PM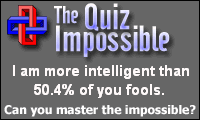 Impossible-Quiz.com -
The Impossible Test
HumanForSale.com
♥
5:39 PM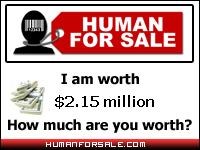 HumanForSale.com -
Free Quiz
Free-IQTest.net
♥
5:34 PM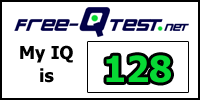 Free-IQTest.net -
Free IQ Test
♥
2:45 PM
My Chinese results.
From 82 ½
to...
84½!
and.. for my science..
From 74
to...
75½!



♥
2:38 PM
Today is Wanlin's unlucky day.
Wanlin almost fell when
nothing
was tripping her on the way to the hall.
Ren Jie said the kakashi drawn by me and shuhui was ugly.
so me and weifen forced him to draw a nicer one.
Being a huge fan of kakashi, Wanlin leapt up to her feet immediately to chase RenJie when she saw it.
She fell down in the midst of chasing him.
&
she fell down
again
when she was demonstrating how she fell.
(oh what a true actress!)
AND..
the cause of her 2 falls is ..




Sunday, March 02, 2008♥
12:44 PM
Feel like having a new blogskin.. but I'm lazy to edit edit edit.
so I think I'm just gonna grab one nice one and paste it.
and perhaps I would edit it if I actually have the motivation to.

♥
11:40 AM
Yesterday went to eat. xD they ordered 2 crabs -.-||
but I only ate the white pepper crab.
the chocolate cake was not very nice because we were all full >.<


Then we went to the arcade.
we played one racing game and I won ..
the steering wheel is very .. errhh. :l

after that we were playing the initial D racing one :D
Brenda told me to use Manual . -.-"
in which, is harder and thankfully a few teenagers helped us to do the manual thing :l
then I won her :D

At another racing one.. I totally screwed up in the front.
which means I lost.. accidentally went to the other path if not had a chance xD
and my right hand felt numb/weak after that particular game :l
because when you turn have to really turn..

then was very tired after that..
and went home and ..
sleep

Saturday, March 01, 2008♥
10:45 AM
And may I add that I shall appear offline more often.
♥
10:43 AM
I am seriously infuriated.
weifen never fails to ask a very troublesome request when I'm enjoying my anime.